Blockchain in Europe: Strategy and Opportunities Begin to Form
Blockchain has the potential to be one of the most disruptive technologies across Europe, and the global economy at large, given its extensive applications. And its applications now extend well beyond cryptocurrencies, the segment that brought the blockchain into the public discourse a decade ago. Still nascent, blockchain technology is vulnerable to growing pains, including performance, energy efficiency, lack of digital assets regulation, integration with legacy infrastructure, and interoperability between blockchains. However, we believe that public and private sector initiatives formulating in Europe can mitigate some of these issues and create strong tailwinds for rapid adoption.
Notably, the European Commission (EC) plans to use blockchain technology to build a pan-European public services blockchain, create a legal and regulatory framework for blockchain-based applications, and fund large research and innovation initiatives. In the private sector, we expect firms eager to enter the space to increase investment in blockchain, encouraged by supportive regulatory frameworks and a burgeoning blockchain infrastructure and services segment. We view these factors and others as major steps in Europe's blockchain technology integration.
Key takeaways:
The blockchain technology evolves and creates countless business applications across all sectors
Blockchain market in Europe is growing, but region and sector gaps evident
Large private and public investments combined with supportive regulation should boost blockchain adoption in Europe
The Blockchain Ecosystem: Well-Positioned to Continue Its Maturation
Blockchain technology made its name as the underlying software infrastructure behind cryptocurrencies. Broadly, the current blockchain market can be segmented into mining, hardware, digital asset transactions, and blockchain applications. But the most recent versions of the blockchain have everyday business applications that can help reduce value chain cost and increase operational efficiency. Notably, blockchain technology enables the secure digital transfer of money, contracts, titles, data, services and other assets.
There are three main types of blockchains.1
The first public blockchains are mostly used for cryptocurrency and peer-to-peer transactions. For example, bitcoin, the world's first cryptocurrency, and Ethereum, the world's leading platform for decentralised applications (dApps), use public blockchains.
Private blockchains are more efficient for tasks like supply-chain management and data storage given their limited scope and controlled features. For example, Morpheus Network, a supply chain and logistics blockchain, and Patientory, a medical supply chain app with a private implementation of Ethereum, use private blockchains.
The third type of blockchain is a hybrid version called permissioned blockchain, which can be tailored to enable only certain participants in the network and their access levels. Ripple, a global payment platform, and IBM Food Trust, a food supply chain verification system, use permissioned blockchains.
As an example, a manufacturer can make a digital copy of a product on a private or permissioned blockchain to record its full history, facilitating the tracking and tracing of how a product is built, stored, quality-controlled, and shipped. Blockchain technology can also interact with connected devices and enable smart contracts for something like energy. Smart meters and sensors can send real-time information to smart contracts that automatically adjust inventories by executing buy and sell orders.
Blockchain Market in Europe: Growing, But Sector Gaps Evident
In 2020, PwC estimated that blockchain technology could add about US$1.7 trillion to the global economy by 2030, led by China (US$440 billion) and the U.S. (US$407 billion). PwC expects Europe's blockchain market to make a significant leap as well, growing from US$2 billion in 2021 to US$150 billion by 2030.2 Firms in Europe are projected to spend about US$614 million in 2022, versus China's US$319 million.3
In 2021, European blockchain market revenue represented about a third of the global market. Banking represents about a third of Europe's blockchain spending, with cross-border payments and settlements and regulatory compliance the main use cases.4 To this point, most of Europe's blockchain market growth has come from the cryptocurrency area. However, rising venture capital funding along with corporate and public investments in distributed ledged technologies (DLTs) are likely to accelerate blockchain technology's use in logistics, distribution, manufacturing, and healthcare.5
PwC reports that logistics and tracking and tracing of products and services have the largest economic potential. The EU taxonomy for environmentally sustainable economic activities could play a particularly important role in promoting the use of blockchain across sectors. Blockchain technology could provide companies, investors, and policymakers critical information to guide sustainable investment and implementation of measures outlined in the European Green Deal.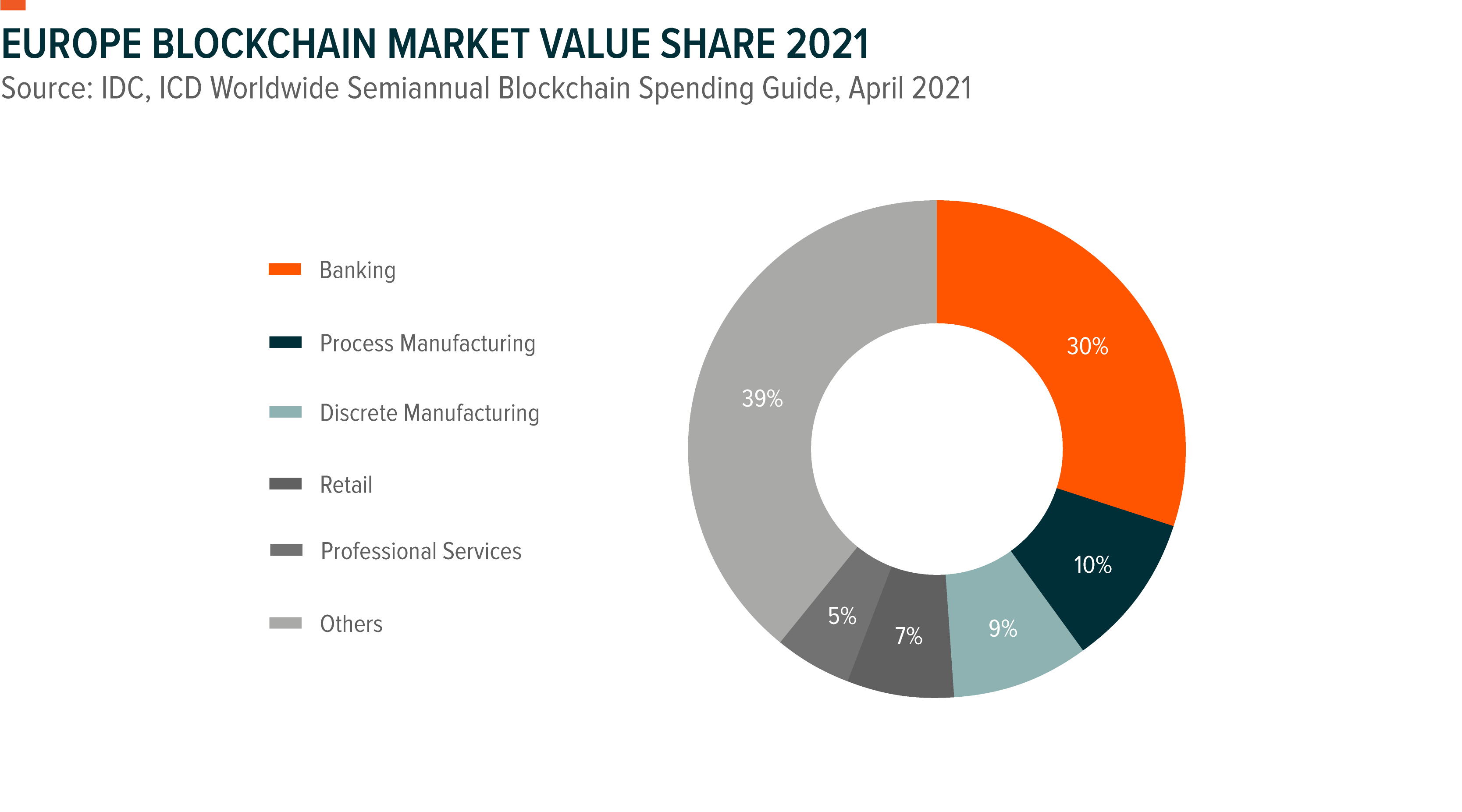 Charting the Blockchain Landscape in Europe: Adoption Varies
No European country has implemented any hostile regulation against blockchain and cryptocurrencies, but certain countries have been quicker than others to embrace the technology and institute strategic regulatory frameworks. According to the EU Blockchain Observatory and Forum, Cyprus, Malta, and Switzerland have the most mature blockchain ecosystems in Europe from regulatory and applications standpoints.6
In 2018, Switzerland became the first country in Europe to clarify the legal situation of crypto assets. And then in 2020, the Swiss Parliament passed the Federal Act on the Adaptation of Federal Law to Developments in Distributed Ledger Technology, known as the DLT Act. As a result, Switzerland is viewed as a blockchain leader globally.
Core European countries such as Germany and France have advanced regulatory frameworks in place for widespread blockchain adoption, but they have yet to implement comprehensive applications. As a result, we believe these countries present significant blockchain investment opportunities and are likely to show the fastest adoption rates in Europe. The UK has a well-developed blockchain ecosystem, but its regulatory framework is not as advanced as others in Europe. Eastern European countries have significant ground to make up.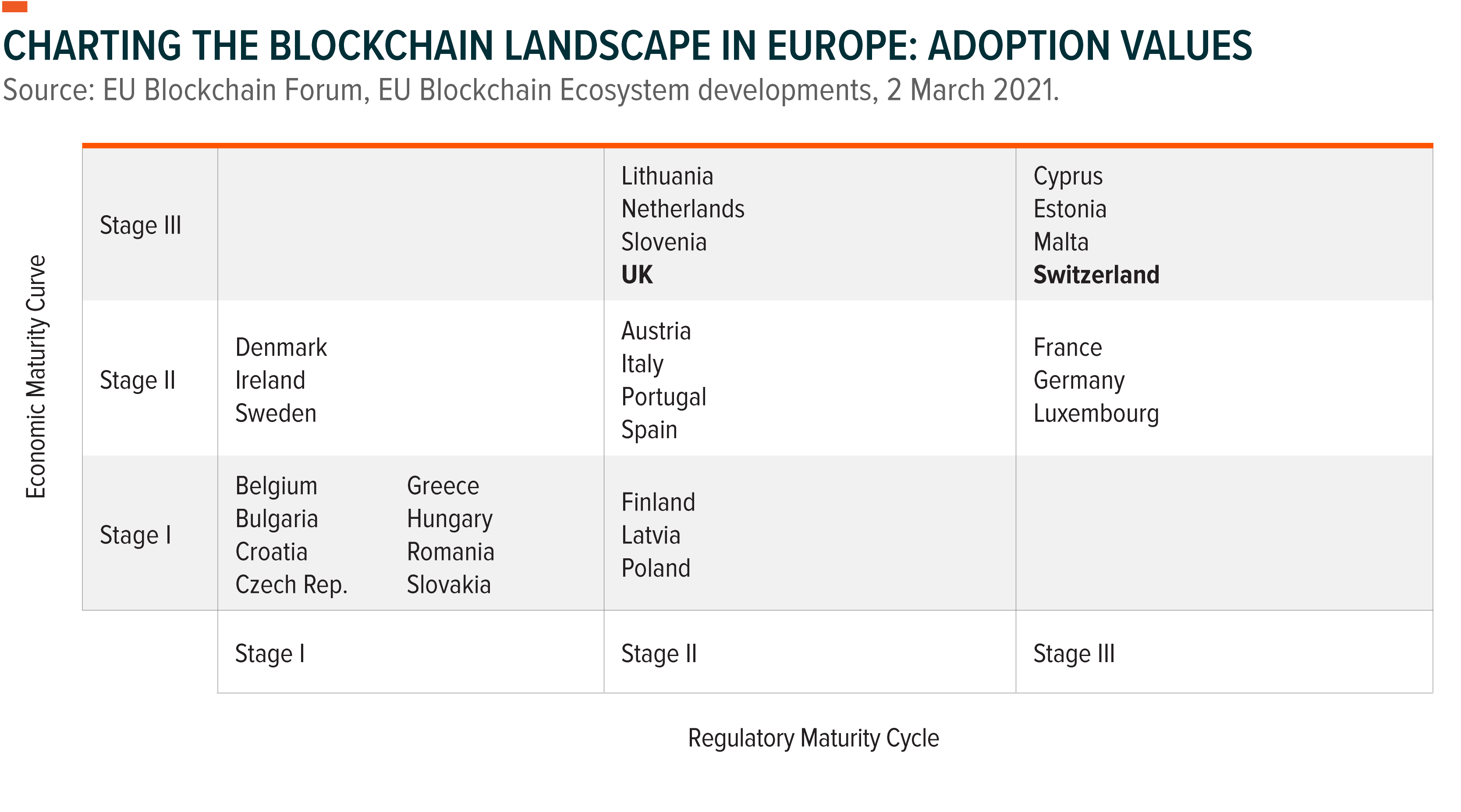 Keys to Adoption: EU's Legal and Regulatory Efforts, Digital Infrastructure Investment
The legal and regulatory environment is one of the main obstacles to blockchain integration. However, the EC is developing a pro-innovation legal framework for digital assets and smart contracts that protects consumers and provides legal certainty for businesses. By ensuring consumer and investor protection, we believe private investment in the space could increase exponentially.7
The Declaration on eGovernment, signed in 2017 by the EU member states, outlined the importance of efficient and secure digital public services in order to achieve the full potential of a Digital Single Market across the EU. In 2018, 21 EU member states and Norway created the European Blockchain Partnership (EBP) and developed the European Blockchain Services Infrastructure (EBSI), a network of 27 distributed blockchain nodes across member states. The EBSI is prioritising applications in notarisation and credentials through the European self-sovereign identity (ESSIF) blockchain. In 2021, the EC announced a proposal to create a unified digital identification system in Europe, through European Digital Identity Wallets. European citizens would be able to send, receive or share digital documents, not only their ID or driving licence but also medical records, bank cards or even university degree titles. This will make easier the way that people are being identified, rent flats or open bank accounts for example in any EU member country.
The EU has been funding blockchain research and innovation through the €180 million Horizon Europe programme since 2016. More recently, the EC announced a €700 million programme to support investments in the tech sector, including scalable Artificial Intelligence/Blockchain Technologies (AI/BT) activities. Targeted sectors include B2B software, data analytics, Internet of Things (IoT), smart cities, automation, language and machine learning, software as a service (SaaS), Fintech, cybersecurity, and the future of work.
In addition, to further support the large-scale deployment of the ledger technology, the EU launched a skills development programme with a total budget of €580 million over seven years. Adequately upskilling the European population to digital literacy is critical for the sustainability of the European blockchain ecosystem.8 The IT skills shortage in Europe is an economic risk for the region.
Also critical to blockchain adoption across Europe is modernising the region's digital infrastructure. At least 20% of the Recovery and Resilience Facility, or about €145 billion, will be allocated for new digital infrastructure.9 The key investment areas include connectivity via broadband services expansion, data cloud capacities and sustainable processors. We expect widespread blockchain adoption will likely occur alongside the implementation of greater cloud computing and connectivity. This development will also require greater data storage capacity.
Outlook: Europe Has a Framework for Blockchain Adoption
We believe that intergovernmental support coupled with private investment create strong tailwinds for the rapid adoption of blockchain technology across Europe over the next decade. They can pave the way for start-ups building the European blockchain, expanding DLTs and calling attention to this disruptive theme. Currently, only a few publicly traded companies provide targeted exposure, mostly based in the U.S. And in Europe, only a few blockchain-related initial public offerings (IPOs) have come to the market, in Germany, Sweden and the U.K. However, we expect that to change as blockchain technologies extend their reach beyond financial-based applications and begin to demonstrate the transformative efficiencies that they can bring to other sectors.
This document is not intended to be, or does not constitute, investment research