Introducing the Global X Nasdaq 100 Covered Call UCITS ETF (QYLD LN)
On November 23, 2022, we listed the Global X Nasdaq 100 Covered Call UCITS ETF (QYLD LN) in the UCITS market.
Global X Nasdaq 100 Covered Call UCITS ETF is Global X's first covered call strategy in the UCITS markets, which is designed to offer investors an alternative income solution, while potentially avoiding risks seen in traditional income-oriented investments like fixed income and dividend stocks.
Key Takeaways
The Nasdaq 100 is comprised of the 100 largest, non-financial companies listed on the Nasdaq exchange. This has historically led to a portfolio of equities that lean towards high growth sectors such as Information Technology, Consumer Discretionary, and Communication Services.
The Nasdaq 100 has experienced strong returns over the past decade, due to low interest rates and strong growth-oriented exposure. However, returns in equity markets are beginning to slow.
Covered call strategies on indexes are a powerful solution for investors to generate income and monetise volatility amid choppy markets. QYLD LN represents Global X's first UCITS covered call strategy in the Europe.
The Nasdaq 100 Characteristics
The Nasdaq 100 (NDX) has generally performed well this past decade, largely through an accelerated shift into digitalisation and an environment of low interest rates. While performance has slowed down due to the rising interest rate environment, the Federal Reserve is also working through the process of monetary tightening. This has been a headwind for equity valuations. While few investment strategies thrive in volatile markets, we believe that covered call approaches could be well positioned.
The Nasdaq 100 has benefitted from growth-oriented sectors like Information Technology, Consumer Discretionary and Communication Services. This has led to an increase in popularity, due in part to its exposure to well-known, mega-cap companies that can be found within the aforementioned sectors such as Meta (Facebook Inc.), Apple Inc., Amazon Inc., Netflix Inc., Alphabet Inc. (Google), and Microsoft. Known as "MAANG+M", these companies combined make up 39.89% of the Nasdaq 100 index as of 31/10/2022.
After experiencing a 10-year period of strong performance, a hawkish Federal Reserve has increased interest rates throughout 2022 which has created headwinds for the companies within the Nasdaq 100 index. This impact of rising interest rates has been seen in the 10-year treasury yield which has moved to 3.67% as of 16/11/2022 and there is still a degree of uncertainty as to where rates will be when economic conditions normalise.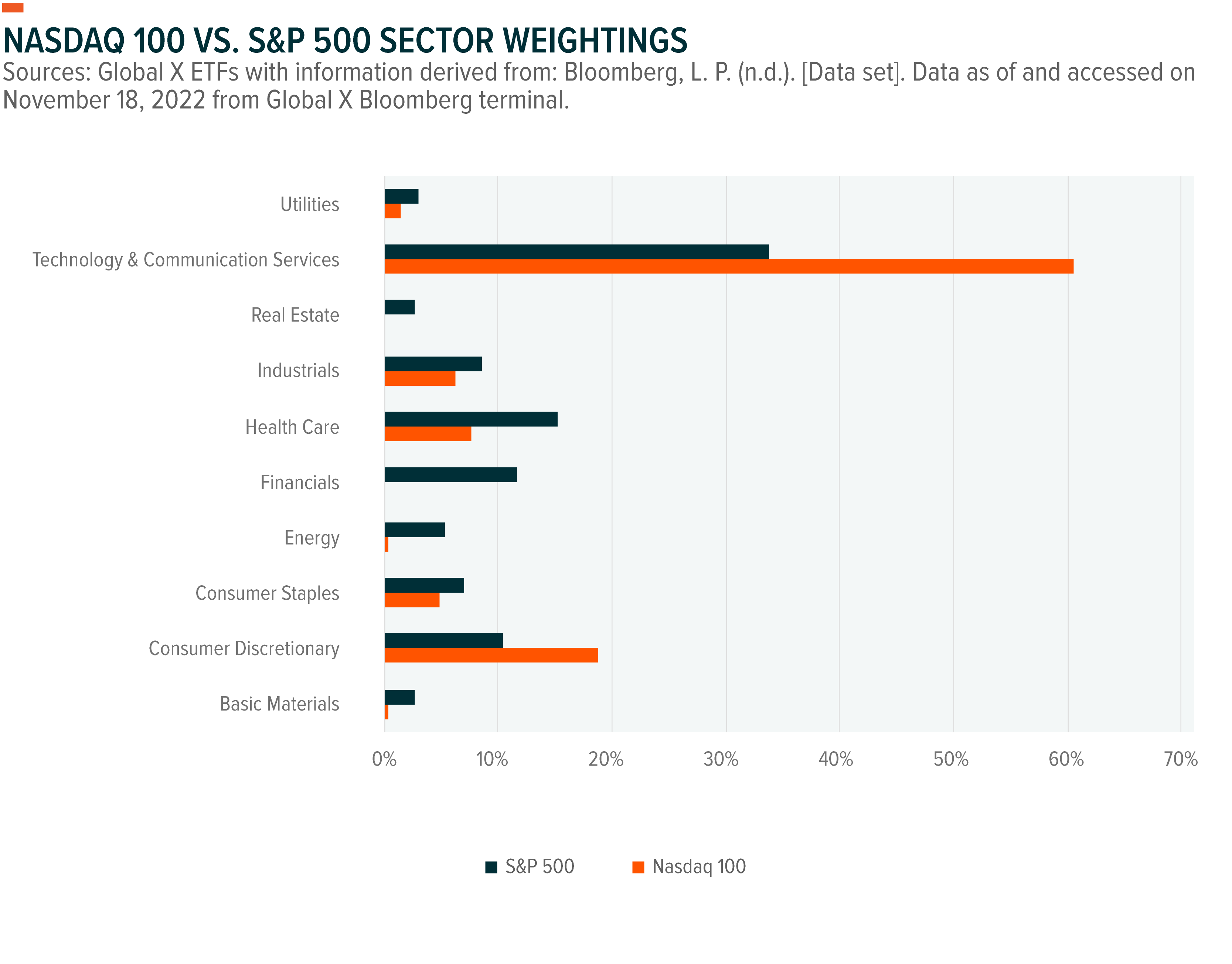 Over the past 5 years, the Information Technology sector has exhibited a higher level of volatility relative to the other sectors. Given that the Information Technology sector is where the Nasdaq 100's portfolio is mostly aligned to, this has increased the overall volatility at the broader index level. In general, level of volatility in a security or index can be harnessed with the utilisation of options.

Covered Call Strategies Can Thrive in Volatile Markets
Should we continue to see a period of rising rates, one way that investors can enhance returns is to generate income from a covered call strategy. This strategy involves purchasing the stocks in the underlying index, such as the Nasdaq 100, and then subsequently writing call options on the index. Covered call strategies limit potential upside participation but generate income through collecting premiums from the option-writing. In volatile markets, option premiums tend to be higher and therefore, covered call strategies tend to perform best in choppy or sideways markets rather than in major bull or bear markets.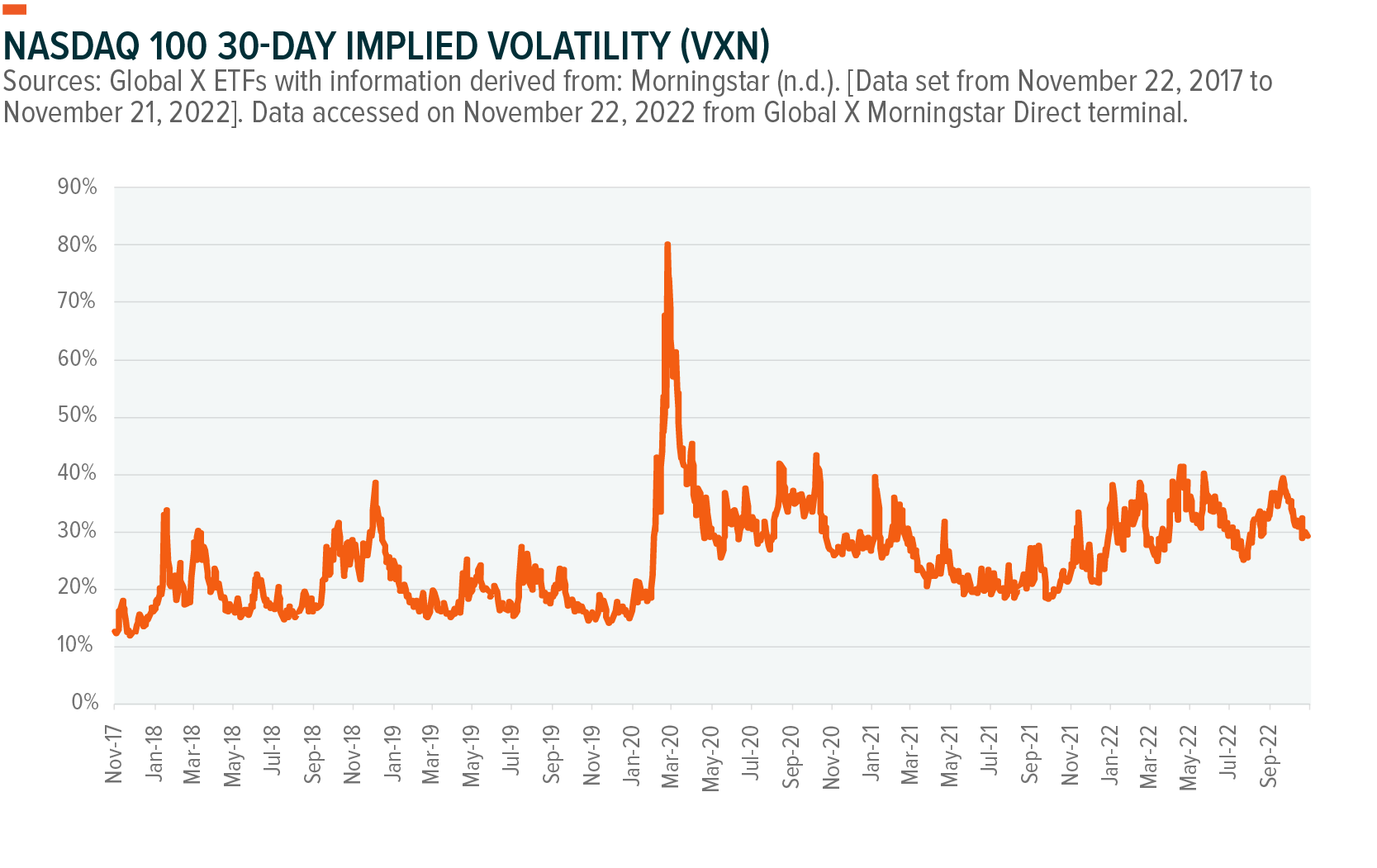 Implementing a Covered Call Strategy
Despite strong returns for the Nasdaq 100 over the last five-years, the market is at a bit of a crossroads with yields in the 10-year treasury having increased. If yields continue to rise, it could cause headwinds for the Nasdaq 100 and broader equity markets as well as other traditional sources of income. However, the transition to the New Normal Economy and rise of digitalisation could present potential tailwinds for equity sectors included in the Nasdaq 100.
Monthly distributions1 for this strategy are capped at half of premiums received or 1% the of fund's NAV; with any excess premiums reinvested into the fund. When adding to a portfolio, covered call strategies could be considered as a partial replacement to equity and fixed income as the yield on these strategies is typically higher than fixed income with higher volatility (but typically lower volatility than the underlying stocks in the index tracked).
Covered call strategies, such as the Global X Nasdaq 100 Covered Call UCITS ETF (QYLD LN), for the European markets could be valuable in an uncertain market environment. Higher volatility tends to increase the options premiums received from writing covered calls, which can enhance returns even in a trendless market. Moreover, the income from index focused covered call strategies can help diversify an income portfolio away from traditional sources such as dividend paying stocks or fixed income investments.
1For distributing share classes only
Capital at risk: The value of an investment in ETFs may go down as well as up and past performance is not a reliable indicator of future performance.
This document is not intended to be, or does not constitute, investment research