The Rise of Digital Health in Europe
Structural trends like inequality, aging populations, systemic inefficiencies, and improving connectivity have reinforced the need for the adoption of technology in the healthcare sector. While the healthcare sector was slow to embrace the digital transformation offered by emerging technologies for many years, the Covid-19 pandemic has been a catalyst for adoption of telemedicine and digital health globally. The global digital health market is expected to grow from US$216bn in 2020 to over US$657bn by 2026.  In the following piece, we explore the digitisation of healthcare in Europe.1
Intergovernmental initiatives drive the digitisation of European healthcare
European countries face several health-related challenges, including aging populations, chronic diseases, unequal quality and access to healthcare services, and a shortage of health professionals. In Europe, digital health emerged as a strategic health priority well before the Covid-19 pandemic, but the crisis further accelerated its adoption across the block.
Prior to the pandemic, Horizon 2020 was the largest EU Research and Innovation programme with nearly €80 billion of funding available from 2014 to 2020.  Among other innovative projects, Horizon 2020 funded Digital Health Europe, which is aimed at supporting large-scale adoption of digital solutions for person-centered integrated care, promoting digitised models of care, enabling breakthroughs and securing Europe's global competitiveness. For example, Digital Health Europe funded a project in Spain and Portugal that has created an Artificial Intelligence (AI) system capable of monitoring and predicting future relapses of patients suffering from multimorbidity conditions. In 2019, the World Health Organisation (WHO) and the European Union (EU) advocated the use of health technologies to reduce inequalities and improve health and well-being. Both organisations emphasised digital health as a crucial component of healthcare services to actively contribute to the achievement of the United Nation's Agenda 2030 Sustainable Development Goals.
Since the Covid-19 pandemic began, public authorities have increasingly relied on the use of digital solutions such as telemedicine and contact tracing apps to facilitate virtual patient-doctor visits and monitor outbreaks. As the world returns to normal, Europe is building on the recent momentum to continue to digitalise healthcare across the region. The European Programme of Work for 2020–2025, called "United Action for Better Health" sets priorities for the future of healthcare in Europe and identifies digital health as key to realising this vision. The EU has also created EU4Health, investing €5.1bn, to continue efforts from the Horizon 2020 programme.  The main objectives behind digitisation of healthcare are to secure access and exchange of health data across the EU, and pool health data for research and personalised medicine. These initiatives will spur existing efforts to adopt digital health across Europe and complement the WHO Global Strategy on Digital Health. Recent studies found that telemedicine and digital health can reduce emergency room visits, optimising healthcare resources, and lowering the spread of Covid-19 by remotely treating patients during and after the pandemic.
European Digital Health Market
Telemedicine and Digital Health companies posted strong performances amid the pandemic, given the sector's defensive nature and a surge in healthcare-related spending to combat Covid-19. The European market for digital healthcare is growing substantially, spurred by the expanding volume of data in healthcare, the need for fast and efficient processes and patients' data accessibility. The Covid-19-pandemic in 2020 and the immense stress it has put on the European healthcare system have accelerated demand for Healthcare Information Technology (HCIT) solutions. This growth trend has also been powered by public financial initiatives in recent years. The digital health market in Europe was valued at US$50.6bn in 2020 and is expected to grow at a compounded annual growth rate (CAGR) of 27.1% over the next five years.
Covid-19 Impact on Telemedicine Adoption in Europe
Before the Covid-19 pandemic, telemedicine services were widely available in Europe, but centered around administrative meetings and trainings. The pandemic has shifted the adoption of telemedicine to clinical purposes with video consultations and distant monitoring, although from a low base. In Europe, telemedicine accounted for US$11.3bn in 2021 and is expected to be the fastest growing segment of the European digital health market with a CAGR of 14% over the next five years.  It is the second largest market for telemedicine globally, behind the United States (US).
Before the pandemic, the use of digital health varied greatly across Europe, resulting in different stages of adoption between countries. For example, Spain and Italy rely on telemedicine for chronic disease management and medication therapy management, while the DACH region (i.e. Germany, Switzerland, and Austria) focused on acute telecare like personal alarms for the elderly. Nordic countries are the most advanced in terms of adoption digital health tools for prevention and mental health, but the United Kingdom (UK) telemedicine market is the largest in Europe. The pandemic has led to significant jump in the number of virtual GP appointments provided by the UK's National Health Service (NHS), from 25% to 71% at the height of the pandemic.
Notably, most of European digital health services targeted the elderly to help them to maintain independence and improve quality of life.  The Covid-19 pandemic has quickened the social acceptance of digital health across population. Europe's leading telemedicine companies, like Kry, Zavamed, Doctolib, or Teleclinic, saw surging consultation hours and app downloads amid the Covid-19 outbreak.  For example, the Swedish digital health app Kry in Sweden, Germany, and Norway, or known as Livi in the UK and France, offers one of the largest online telemedicine platforms for patients in Europe. More than 60% of all the GPs in the UK market use Kry, according to the company. Another growing trend in the digital healthcare delivery space is the AI-triage or even diagnosis chatbots, like Babylon Health in the UK.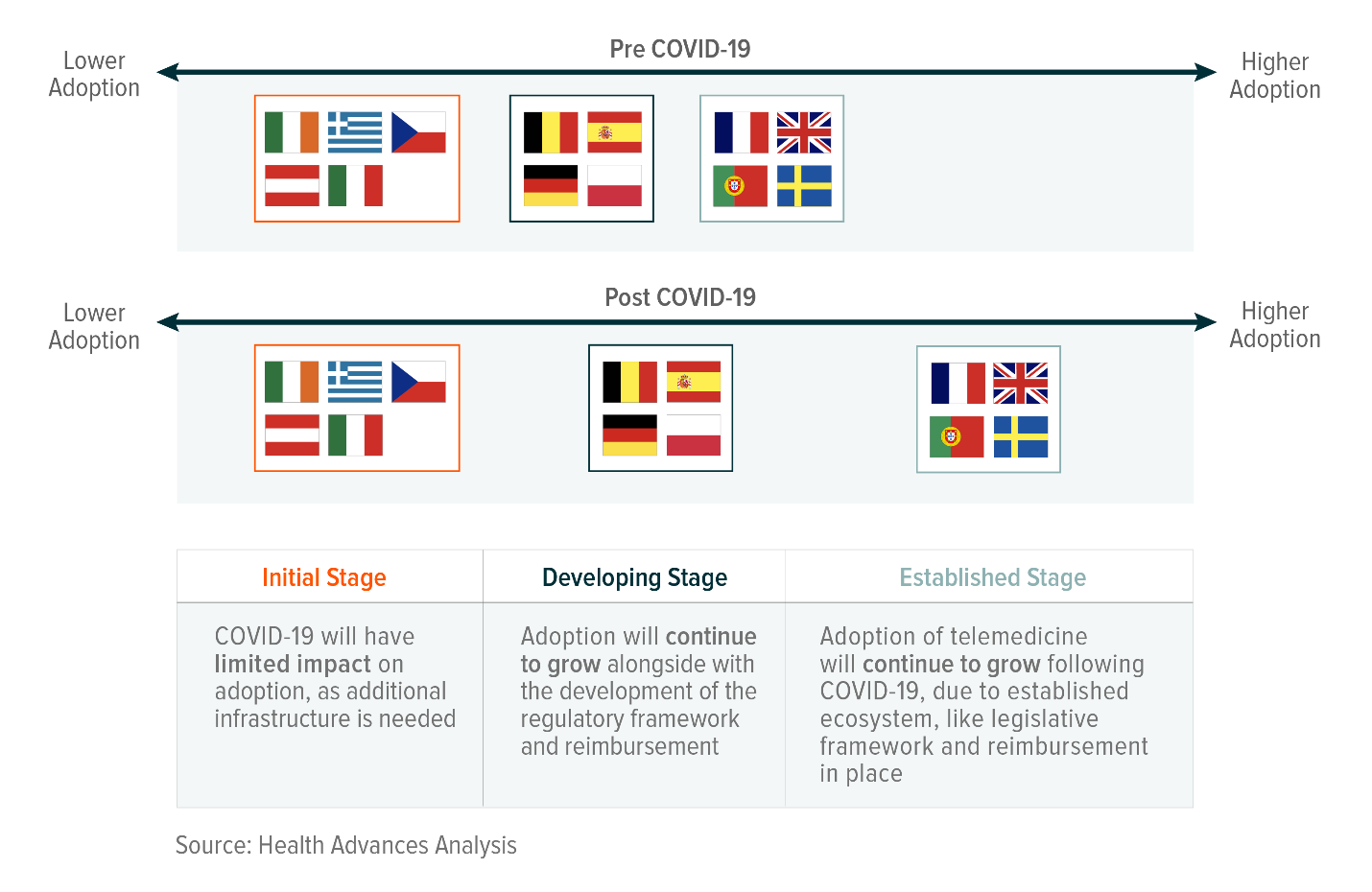 Overall, mobile health services (mHealth) supported by devices such as mobile phones, tablets, or smartwatches were well established in Europe long before the Covid-19 pandemic. According to a survey conducted in 2020 by HIMSS, mHealth is expected to remain one of the fastest growing segments of digital health, followed by the adoption of telemedicine for administrative meetings, staff training, and education.
Several obstacles to the increasing use of telemedicine in Europe include data security and privacy issues, lack of regulation, low public reimbursement, lack of awareness and poor connectivity in some rural areas. Each country adopts new regulations and laws to accommodate telemedicine, but the absence of a consistent global framework hinders the progress of healthcare innovation's adoption. However, the Covid-19 crisis propelled the use of digital tools within existing frameworks such as General Data Protection Regulation (GDPR).
While the surge of demand for hardware and medical device manufacturers that has resulted from the pandemic is expected to be short-term, many telemedicine and digital health companies are likely to benefit both in the short- and long-term.
Conclusion
Telemedicine and Digital Health can expand access to healthcare by making it more geographically and financially accessible, presenting opportunities for large scale adoption in Europe and around the world. We believe that the benefits seen by patients, providers, and payers will continue to drive the overall adoption of these themes.
This document is not intended to be, or does not constitute, investment research